THE FLEETING UNION OF PORTALS (talk) "口岸联盟" (活动发言)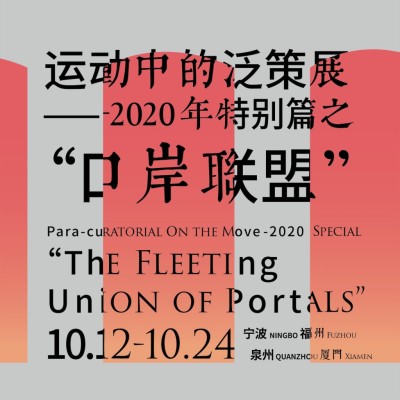 THE FLEETING UNION OF PORTALS PARA-CURATORIAL ON THE MOVE 运动中的泛策展 2020年特别篇之"口岸联盟"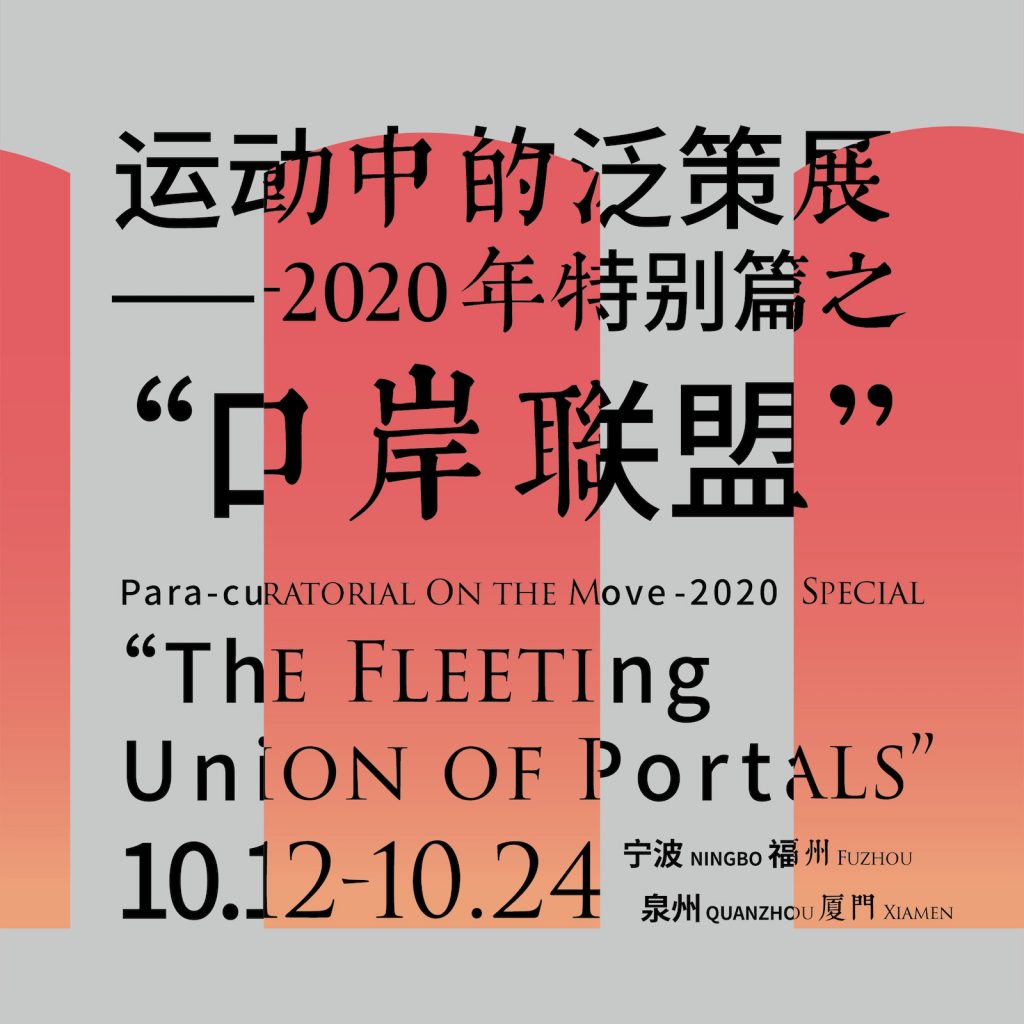 10.12-10.15 Ningbo 宁波, 10.15-10.19 Fuzhou 福州, 10.19-10.21 Quanzhou 泉州, 10.21-10.24 Xiamen 厦门 Portal Speakers: Feng Sha, Candice Lin, Liu Li, Ngoc Nau, Pablo José Ramirez, Sawangwongse Yawnghwe, Zhang Beiyu Informants: Chen Min,Cheng Tingting,He Yining, Huang Xiaowei, Lee Kai Chung, Lu Chuan, Ma Haijiao, Zheng Chuan, Zhu Xiang, Zhuang Qiqi,Huang Xiaowei, Chen Huaxian Organized by Guangdong Times Museum Hosted by Jiazazhi Press/Library, Phoenix·SEEWELL International Art Center, Quanzhou Maritime Museum, Three Shadows Photography Art Centre Supported by Prohelvetia
交流嘉宾:萨望翁·雍维、张倍瑜、林丛欣、刘莉、玉瑙、冯莎、巴勃罗·何塞·拉米雷斯 参与者:陈柏麒、陈花现、程婷婷、李继忠、马海蛟、朱湘、卢川、何伊宁、郑川、陈旻、庄麒麒、黄晓伟、吴建儒、张涵露 主办机构:广东时代美术馆 合作机构:假杂志、凤凰·威狮国际艺术中心、泉州海外交通史博物馆、三影堂厦门摄影艺术中心 支持机构:瑞士文化基金会
Launched in 2012, the para-curatorial series of the Times Museum has gathered artists, scholars, researchers, and audiences through thematic seminars that bring cross-bordered discussions into the museum. However, this cosmopolitan spectrum of art has struggled to document and embody the fractured realities of a post-pandemic world, when heated public topics such as race, the Cold War, and decoupling widen the divide between we and they. Guangzhou is embedded within the rich network between southern China and the "souths" of the world, yet global connectivities among southern cultures and regions remain tenuous and underepresented in mainstream media. If we are to reclaim intimacies among distant peoples and places, and to shed light on our entangled existence filtered by frictions of the information sphere, we should propose other forms of knowledge embodiment that may help to bridge different understandings.
启动于2012年的"泛策展"系列,过往都以年度研讨会的方式,把艺术家、学者、研究者和观众聚集到美术馆,讨论各种跨学科、跨地域和跨媒介的议题。运动中的泛策展——2020年特别篇之"口岸联盟",则将进一步突破常规的会议或展览模式,将艺术的公共属性,从美术馆的实体空间中释放出来,在原来的"临时学院-社区中心-美术馆"三位一体之上,发起在路上的联盟。这里说的"联盟"是一个兼收并蓄,构成不断变化的队伍,将沿着宁波、福州、泉州、厦门由北而南,最后返回广州。通过与各地机构合作并搭建落地门户,我们在行走的过程中将解锁多样化的艺术生产和分享方式:包括线上线下讲座,艺术家、学者和策展人工作坊,对当地学者和艺术家的拜访,长短视频的记录和现场回顾,研究分享和作品委任等。
"Para-curatorial on the Move" is a special edition for 2020, while The Fleeting Union of Portals takes "treaty ports" as a conceptual portal to review early histories of colonial imperialism and the forming system of free trade, in which material exchange across continents and oceans gave birth to the convergence and divergence of cultures, societies, rituals, and images. With informants and hosts, the eclectic union will travel southward along major ports of coastal China, including Ningbo, Fuzhou, Quanzhou, Xiamen, and will return to Guangzhou. It will activate multiple ways of sharing, including webinars and talks, artist workshops from scholars and curators, vlogs and video documentation, and museum studies and visits to local experts and artists. It is a collective exercise to forge new ground for public engagement and a fleeting attempt to break out from the spatial constraints of the exhibition space as well as the materiality of museum display.
广东时代美术馆所在的中国南方,与历史上和世界上其它的南方,共享着地缘和想象力上的资源。曾经作为海上丝绸之路"西航路"上的古老港口,并在《南京条约》后开放为通商口岸的广州,与其它通商口岸一样,是朝贡系统、帝国贸易和自由贸易等几种交换体系博弈的产物,也是地方与国家身份、外来文化与本土认同、离散轨迹与原乡情结的遭遇之地。这些口岸上人和物的流动,形成复杂的叙述和交缠的图像和文化网络,远比它们在今天的全球贸易和海洋经济中作为物流枢纽的形象要立体和丰富。为了回应近年来艺术家和年轻学者,对博物馆学和史学研究的反思和发问,行程考察的重点将转向语言、音乐、空间记忆和身体经验等非物质形式。通过关注博物馆陈列和历史叙事中,可能被简化的事件、地点和概念,以及苦力、疍家人、女性、海盗和去国者等边缘化身份,我们旨在透过当代艺术的大同光谱,表达并记录差异,重燃对远方的人和事的求知欲、共情与关怀。