Insider / Outsider: Street Photography China Award 2016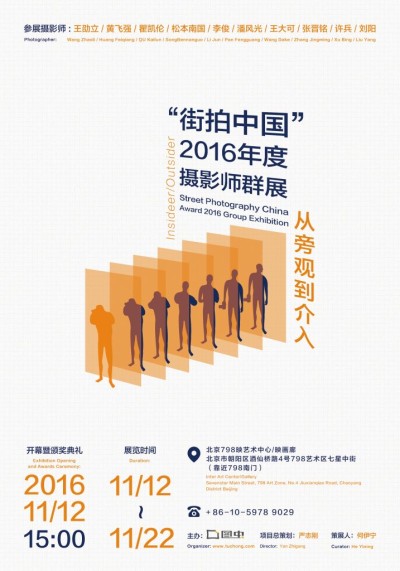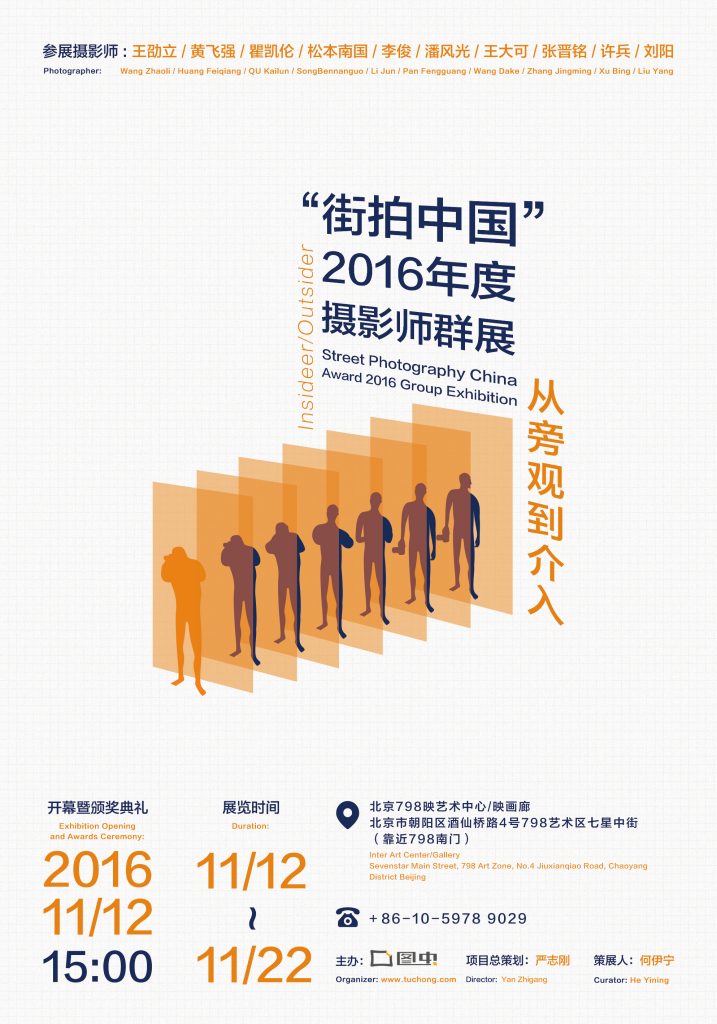 从旁观到介入
"街拍中国"2016年度摄影师群展
2016.11.12——11.22
街头摄影自诞生以来便回应了现代都市街头的生活与经验的多样性与复杂性。作为一种瞄准都市日常生活的摄影类型,街头摄影以其丰富的视觉材料和民主的特性,一直以来都在大众摄影实践中占据着重要位置。
在今天,将街头作为战场的"扫街族"们在不断尝试突破拍摄主题和展现形式的同时,一方面面临着街头摄影自身的限制,另一方面也面临着诸如城市个性的趋同化、历史街区的解体和传统消费场所的消失所带来的挑战。于此同时,在专业领域内,从传统实践者用相机快速制作对外部世界的再现,生产过度浮于表面的图像,到选择通过"介入"的方式,运用多元的策略与日常街头和周围世界发生直接的联系,街头摄影正经历着一种从旁观到介入的转向。
"从旁观到介入"共展出了十位"街拍中国"年度入选者的作品,以鼓励摄影师不拘一格展示自己独特的摄影语言,同时,激励摄影师们不仅是这些变化的旁观者,也应该作为自身的批判者去观察周围的世界。
Insider / Outsider
Street Photography China Award Group Exhibition
2016.11.12——11.22
Street Photography was born in the response to the modern city, the life and experience in its streets, the pulse of its diversity and twists of its complexity. With its wealth of visual information and democratic character, street photography has cemented its importance as the primary medium of the urban quotidian.
Today, the city has become a battleground for the "street sweepers" of photography, those constantly trying to break the mold in both form and subject. However, these photographers are faced with multiple challenges: on one hand they are limited by street photography's own, self-imposed boundaries. On the other hand, they are confronted with homogenization: historic urban landscapes have all but disintegrated and classic centers of consumption have disappeared —cities have begun to lose their personality.
"Insider / Outsider" brings together the work of 10 photographers. The show encourages photographers not to stick to a single pattern, instead it urges each to find his or her own language of expression within the medium. It motivates photographers not to just be spectators of change; photographers should become their own critics, constantly finding new ways to see the world around them.