Troubled Intention Ahead: Confusing Public and Private (The 3rd Beijing Photo Biennial) 混合的公共与私密(第三届北京国际摄影双年展)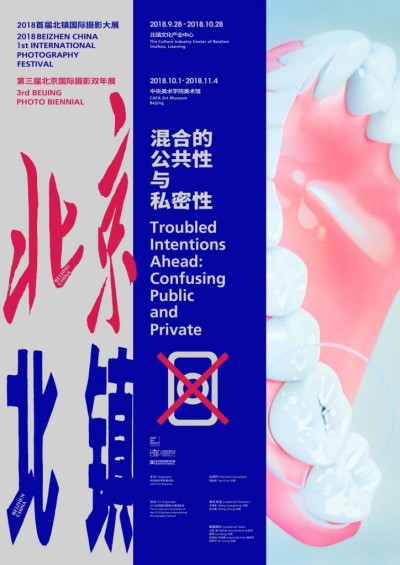 Troubled Intention Ahead: Confusing Public and Private
The 3rd Beijing Photo Biennial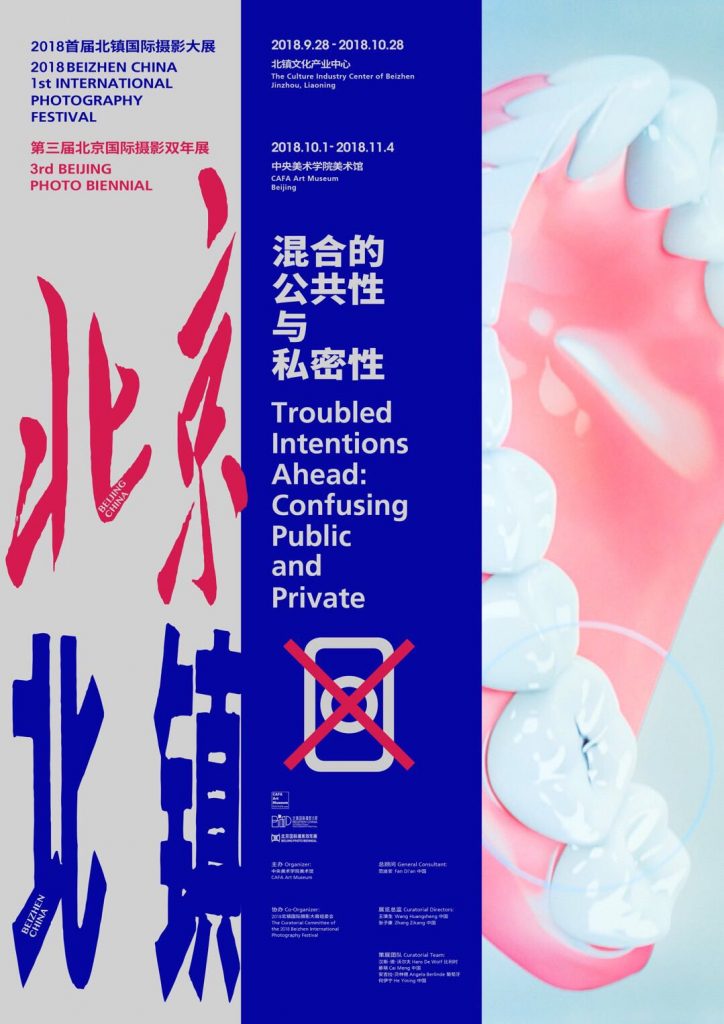 Organizer: CAFA Art Museum
Co-Organizer: The Curatorial Committee of the 2018 Beizhen International Photography Festival
Dates: September 28, 2018 (Friday) –November 28, 2018
Venues: The Culture Industry Center of Beizhen (Jinzhou, Liaoning), CAFA Art Museum (Beijing)
General Consultant: Fan Di'an
Curatorial Directors: Wang Huangsheng, Zhang Zikang
Curatorial Team: Hans de Wolf, Cai Meng, Ângela Ferreira, He Yining
With works by Aby Warburg (Germany); Aristotle Roufanis (Greece); Anni Hanen (Finland); Anna Fox (UK); Andrea Eichenberger (Brazil); Ariane Loze (Belgium); Berna Reale (Brazil); Bruno Morais & Cristina de Middel (Brazil and Spain); Broomberg & Chanarin (South Africa and UK); Barbara Probst (Germany); Beni Bischof (Switzerland); Chen Baoyang (China); Chen Haishu (China); Catrine Val (Germany); Claudia Andujar (Brazil); Candida Höfer (Germany); Catherine Balet (France); Carl Johan Erikson (Sweden); Dai Xianjing (China); Daniela Friebel (Germany); Dagmar Keller (Germany ); David Claerbout (Belgium); Dirk Braeckman (Belgium); Edgar Martins (Portugal); Eddo Hartmann (Netherlands); Emmanuel Van Der Auwera (Belgium); Eva O'Leary (USA); Erich Von Stroheim (Austria); Eleazar Ortuño (Spain); Gong Baoming (China); Guo Guozhu (China); Gong Yingying (China); Gao Yan (China); Galit Seligmann (Israel); Gayatri Ganju (India); Gerhard Richter (Germany); Giuseppe Penone (Italy); Gisela Motta and Leandro Lima (Brazil); Hao Jingban (China); Hu Weiyi (China); Honoré d'O (Belgium); Ji Zhou (China); Jeff Wall (Canada); Joan Fontcuberta (Spain); Jewro Roppel (Kazakhstan); Jan Vercruysse (Belgium); Jo Ractliffe (South Africa); Letícia Lampert (Brazil); Laura Quiñonez (Colombia); Laura Pannack (UK); Luigi Ghirri (Italy); Latif Al Ani (Iraq); Lua Ribeira (Spain ); Léonard Pongo (Belgium); Alexvi (China); Li Lang (China); Li Longjun (China); Lv Jiatong (China); Luo Jing (China); Li Yong (China); Liu Zhang Bolong (China); Ma Haijiao (China); Marcel Broodthaers (Belgium); Marcel Duchamp (USA); Malick Sidibé (Mali); Martin Bollati (Argentina); Mário Macilau (Mozambique); Man Ray (USA); M.C. Escher (Netherlands); Mathias LØvgreen & Sebastian Kloborg (Denmark); Natasha Caruana (UK); Ke Peng (China); Patrick Faigenbaum (France); Pieter Hugo (South Africa); Rochelle Costi (Brazil); Roger Ballen (USA); Rosa Gauditano (Brazil); Richard Mosse (Ireland); Rosângela Rennó (Brazil); Robert Frank and Laura Israel (Switzerland and USA); Song Dong (China); Shen Linghao (China); Su Jiehao (China); Shen Xuezhe (China); 宋兮 Song Xi (China); Song Ziwei (China); Sarah Mei Herman (Netherlands); Sara, Peter and Tobias (Danish); Shizuka Yokomizo (Japan); Shen Wei (USA); Taca Sui (China); Todd Hido (USA); Vanja Bucan (Slovenia); Viviane Sassen (Netherlands); Weronika Gesiscka (Poland); Wolfgang Laib (Germany); Wang Penghua (China); Wang Haiqing (China); Wang Tuo (China); Wang Yishu (China); Wang Zhengxiang (Taiwan China); Weng Fen (China); Wei Lai (China); Xu Bing (China); Xu Xiaoxiao (China); Xu Hao (China); Yang Fudong (China); Yang Yuanyuan (China); Yu Xunling (China); Zhang Jungang (China); Zhang Jin (China); Zhang Xiao (China); Zhang Yongji (China).
Mission & Purpose
The Beijing Photo Biennial has received wide attention and recognition in the art industry and related fields following the success of its first two exhibitions ("Aura and Post-Aura", 2013 & "Unfamiliar Asia", 2015). As one of CAFA Art Museum's signature events, the project aims to examine the ways photography—a unique form of interference and application as well as a constantly self-renewing medium—continues to engage in contemporary cultural narratives and the construction of new artistic orders and structures. Drawing on Western classics and cutting-edge photographic resources around the world while keeping an eye on the future, we hope to discover and support talented young photographers in China and encourage them to explore the language of photography, expand their views, and contribute to the development of photography in China by bringing the influence and prominence of Chinese contemporary photography to another level in the global art industry.
This year's biennial is designed as part of the Special Exhibitions section of the 1st Beizhen International Photography Festival and will be held simultaneously at the Culture Industry Center of Beizhen and the CAFA Art Museum. The exhibition will showcase close to 1000 works of some 80 artists from around the world, which will be accompanied by a series of seminars, forums, talks and public education events. The CAFA Art Museum will continue to bring advanced modes of thinking and organization from contemporary culture and the art industry into the field of photography and image art in China, with the aim to enhance its cultural depth, academic scope, quality of communication and globalized vision. By presenting photography as a universal, contemporary, practical and everyday medium of visual expression, we hope to reveal the serious and in-depth reflections of contemporary photographers and artists on subjects such as history, social reality, art and the self, and to inspire more people to discover, explore and reexamine this unique medium. At the same time, we also want to explore a new kind of curatorial system that puts emphasis on the social and public roles of university art museums by collaborating with the local government in order to contribute to the cultural development of relatively less advanced regions, as well as to establish new labels and platforms for art and cultural exchanges of a new era.
On the Theme of the Exhibition
As a new form of technology, medium and application, photography has been associated with issues concerning the public vs. the private since the day it was invented. From the inherently private practices of shooting and viewing in public spaces in the early days of photography to the democratization of image in today's world of camera phones, mobile web and social media, and to the constantly evolving visualization of data in contemporary art, photography has become an important medium that extends to, interferes with, participates in and helps construct public and private lives to an ever-increasing degree. As a result, the public and private elements of photography have continued to integrate and spread from constant clashes and confrontations between real and fictional spaces; they are also changing our modes of expression, relationships and behavioral patterns while filling up our public and private living spaces. Eventually, with the large-scale interference of photography, public and private spaces are reconstructed, so are the boundaries between the individual and the community and the definitions of the self and others. During these metamorphoses, photography becomes intertwined and resonates in new ways with a variety of important factors such as history, reality, religion, philosophy, civilization, war, science & technology, politics and human emotions. As a medium or a bridge between different worlds, its performance unfolds in both the public sphere and the private sphere. In a spatial-temporal context where the public and the private are merged, the modes of organization and thinking are extremely complex, and the atmosphere is characterized by a sense of ritualism and absurdity, how can we embark on an adventure of the mind? What kind of world is this? How is it related to us? In an intellectual field and visual drama that could be defined as Utopia, Dystopia, Heterotopia or Protopia[1], the way we tackle the relationship between the public and the private and its expressions via photography will become the common goal we build on a relatively broader, higher and more distant point of view, and it will also become our curatorial starting point for the exhibition. Therefore, the exhibition will revolve around the complex coexistence of the social, public and private characteristics of photography—a broad, multidisciplinary field—and explore its role and significance in the tension between the public and the private.
It's worth pointing out that, by drawing on past experience and learning from the challenges we faced during the first two biennials, the curatorial team will design the exhibition with an experimental and daring method of organization and thinking based on the theme "Confusing Public and Private", and hope to design a completely different show this year.
[1] Kevin Kelly once pointed out that real Dystopias have nothing to do with the way they are portrayed in the film Mad Max, but resemble the former Soviet Union: they are not worlds of chaos, but worlds run by suffocating bureaucratic institutions…Nevertheless, neither Dystopias nor Utopias are our real destiny: what we are actually heading toward is a "Protopia". To be more precise, we have already arrived in a Protopia. A Protopia is not a destination, but a state of transformation—a process. In the Protopian mode, today will always be better than tomorrow, even just a little. It is a gradual process of improvement and a gentle form of evolution.