The Routledge Companion to Photography, Representation and Social Justice (book chapters)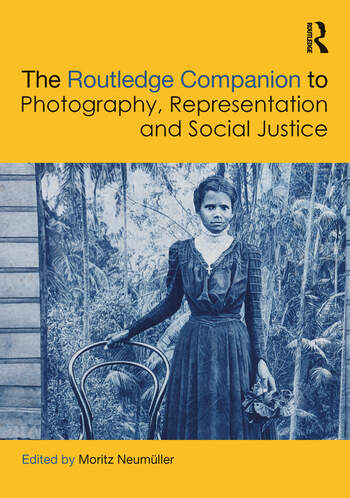 Including work by leading scholars, artists, scientists and practitioners in the field of visual culture, The Routledge Companion to Photography, Representation and Social Justice is a seminal reference source for the new roles and contexts of photography in the twenty-first century.
Bringing together a diverse set of contributions from across the globe, the volume explores current debates surrounding post-colonial thinking, empowerment, identity, contemporary modes of self-representation, diversity in the arts, the automated creation and use of imagery in science and industry, vernacular imagery and social media platforms and visual mechanisms for control and manipulation in the age of surveillance capitalism and deep fakes, as well as the role of imagery in times of crisis, such as pandemics, wars and climate change. The analysis of these complex themes will be anchored in existing theoretical frameworks and include new ways of thinking about social justice and representation and how to cope with our daily image tsunami. Individual chapters bring together a diverse set of contributions, featuring essays, interviews, conversations and case studies by artists, scientists, curators, scholars, medical doctors, astrophysicists and social activists, who all share a strong interest in how lens-based media have shaped our world in recent years.
Expanding on contemporary debates within the field, the Companion is essential reading for photographers, scholars and students alike.
Table of Contents
0.1 Introduction
Moritz Neumüller
1 Representation, Identity and Inclusion
1.0 Chapter Introduction
Moritz Neumüller
1.1 Representation and Responsibility: Institutions as Changemakers
Shahidul Alam, Noelle Flores-Théard, Kristen Lubben and Mark Sealy
1.2 Between Camera and Canvas: Man Ray, Picasso and the Representation of Adrienne Fidelin
Wendy A. Grossman
1.3 An Archive in a Suitcase. And the Question What to Do With It
Ana Briongos, Moritz Neumüller and Carmen Pérez Gonzalez in Conversation with Azu Nwagbogu and Asya Yaghmurian
1.4 The Representation of the Inuit Population in Greenland, Then and Now
Mette Sandbye
1.5 Representations and Stereotypes of Greenland, Revisited
Inuuteq Storch in Conversation with Laila Lund Altinbas
1.6 Photography in Contemporary Jewelry Art
Irina Chmyreva
1.7 Repetitive Representations. The Case of Private Photographs
Maria Gourieva and Friedrich Tietjen
2 Diversity, Empowerment and Social Justice
2.0 Chapter Introduction
Moritz Neumüller
2.1 The Railway and its Images: Decolonizing Landscapes through the Works of Chinese Visual Artists
Yining He
2.2 Through Fa'afafabulous Glasses: An Interview with Yuki Kihara
Nina Tonga
2.3 Participatory Photography: Gaze, Representation and Agency
Michelle Bogre
2.4 Canterbury, Revisited: Reflections on a Collaborative Photography Course for Sighted and Visually Impaired Participants
Simon Hayhoe, Partho Bhowmick, Noemi Pena-Sanchez, and Karl Bentley
2.5 Social Practice and Photography: Who is Looking at Whom?
Tiffany Fairey, Julian Germain, and Mark Strandquist, in Conversation with Anthony Luvera
2.6 The Breath of Memory
Danie Mellor, in conversation with Tyson Yunkaporta
2.7 The Role of the Andean People in the Work of Martin Chambi, Revisited
Andrés Garay and Moritz Neumüller
3 Crisis and Change
3.0 Chapter Introduction
Moritz Neumüller
3.1 Feminism and Photography: A Situated Exploration of the Visual Archive of Feminisms in Chile
Ángeles Donoso Macaya
3.2 Freedom Is Not Free
Mashid Mohadjerin
3.3 Selling the Great White Myth. A Reflection on the South African Media and Communications Industry From the Life Experience of a Brown Bodied Woman
Nicole Klassen
3.4 Working with Archives — Past, Present, Future
Cristina de Middel, Rafal Milach and Moritz Neumüller
3.5 Visual Proof: How Glacier Photography Shows Us the Reality of Climate ChangeAndrea Fischer and Magdalena Vuković
3.6 When Will They Listen?
Edward Burtynsky in Conversation with Moritz Neumüller
3.7 Art and Activism Revisited
Swaantje Güntzel and Chris Jordan in Conversation with Moritz Neumüller
4 Automated and Networked Images
4.0 Chapter Introduction
Moritz Neumüller
4.1 Leaks, Growths and Caveats: The Black Hole Image
Rashi Rajguru
4.2 Visualisation as a Political Act
Peter Galison in Conversation with Moritz Neumüller
4.3 How to Photograph a Virus
Florian Krammer in Conversation with Moritz Neumüller
4.4 Video Games Inside the Body: Medical Robots and the Future of Tele Surgery
Michael A. Palese in Conversation with Moritz Neumüller
4.5 Orientation and Resistance in a Fog of Systems
Bani Brusadin
4.6 Machine Learning for Aquatic Plastic Litter Detection Turned Into Art
Mattis Wolf and Oliver Zielinski, with an artist statement by Swaantje Güntzel
4.7 Is this Still Photography? Online Experiences, NFTs and Digital Vernacular
Barbara Cueto, Marco De Mutiis and Jon Uriarte
5 Censorship, Image Control and Manipulation
5.0 Chapter Introduction
Moritz Neumüller
5.1 Who, How, and Where? Speaking, Writing, Making Art, and Publishing in a Censorial World
David N. Martin, James W. Koschoreck, and Suzanne Szucs
5.2 Tonald Drump, Censorship and Deplatforming
Katja Müller-Helle
5.3 Interviews with Anonymous Internet Content Moderators
Eva & Franco Mattes
5.4 Selfies, Biometrics, Geolocation, and the 2021 Capitol Hill Riot: How Photography is Used in the Service of Surveillance
Stephen Chalmers
5.5 The Real, the Unreal and the Authentic
Debi Cornwall, Marvin Heiferman, Josué Rivas, Alexey Yurenev, in Conversation with Fred Ritchin
5.6 Image Archives in the Age of Surveillance Capitalism
Lukas Fuchsgruber
6 New Ways of Seeing
6.0 Chapter Introduction
Moritz Neumüller
6.1 Exiting the Photographic Universe
Fred Ritchin
6.2 Diversifying the Tools of Storytelling: From Photography and Video to Virtual Reality
Zahra Rasool in Conversation with Fred Ritchin
6.3 Lubumbashi to Paulshoek: Iterations of the Local in Six African Photobook Projects
Bronwyn Law-Viljoen
6.4 Remix: Printed Matter From the Caribbean
Nadia Huggins
6.5 Opening the Gates for Eastern Concepts and Terminology for Photography Theory
Yining He, Sunyoung Kim and Ivan Vartanian in Conversation with Moritz Neumüller
6.6 Translation and Use of Western Photography Theory in Asia
Yining He, Sunyoung Kim, and Ivan Vartanian in Conversation with Moritz Neumüller
6.7 Deconstructing Red, Yellow, Black, and White
Angélica Dass in Conversation with Moritz Neumüller
MORE INFORMATION
https://www.routledge.com/The-Routledge-Companion-to-Photography-Representation-and-Social-Justice/Neumuller/p/book/9781032112947