Power in Perspective: Early Photographs in China Artist Talks: Activating Collections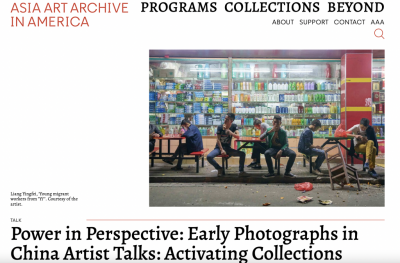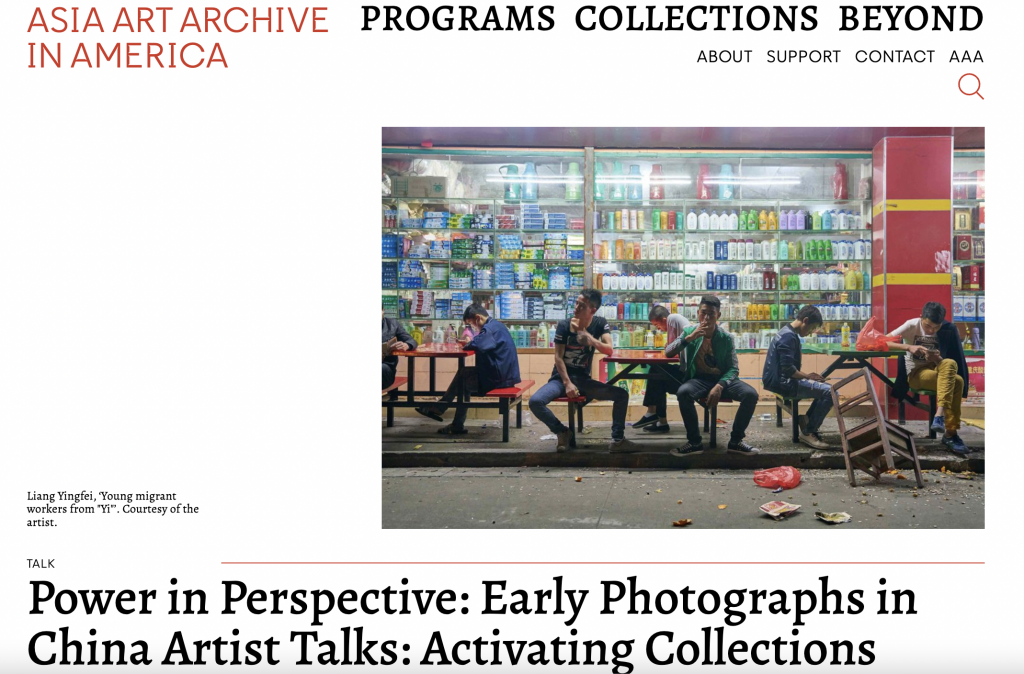 Artists: Shi Yangkun, Liang Yingfei, Lu Yufan
Moderator: He Yining
Join us on March 23rd for a virtual roundtable about artists responding to historical collections. Our speakers include three contemporary Chinese photographers featured in the Peabody Essex Museum exhibition Power and Perspective: Early Photography in China: Shi Yangkun, Liang Yingfei and Lu Yufan. He Yining will moderate the roundtable and is co-presented with the Peabody Essex Museum. The program will be in English and Chinese, with live translation.
ABOUT POWER & PERSPECTIVE
Power and Perspective: Early Photography in China explores how the camera transformed the way we imagine China. It sheds light on photography as an inherently social medium that continues to shape our perspectives today. Read more on the exhibition page.
ABOUT PEM's ASIAN ART COLLECTIONS
Founded in 1799 by America's first global entrepreneurs, PEM is a museum of international art and culture dedicated to connecting art to the world in which it is made. We celebrate outstanding artistic and cultural creativity by collecting, stewarding, and interpreting objects of art and culture in ways that increase knowledge, enrich the spirit, engage the mind and stimulate the senses. PEM is one of the nation's major museums for Asian art, including Japanese, Chinese, Korean and Indian art, along with Asian Export art and 19th-century Asian photography.
–
Shi Yangkun uses the language of photography to explore the complexity of Chinese society in a subtle way. His work has been exhibited at the Shanghai Center of Photography, the Zhejiang Art Museum and the Art Museum of Guangzhou Academy of Fine Art, as well as internationally. He has been awarded the PHMuseum Photography Grant, PDN Emerging Photographer, TOP20 Chinese Contemporary Photographer and the First Prize of UrbanPhotoFest Open. Find him @shiyangkun.
Yingfei Liang is a Chinese visual storyteller who began practicing photography in 2012. Her first long-term project captured the intimate relationships of a man diagnosed with a rare disease and was published and exhibited in 2014. In 2015, Liang became a photojournalist, covering spot news in China and reporting on social minorities. Since 2018, Liang has been actively involved in the Magnum Foundation Photography Expanded Documentary Mentorship Program. "Beneath the scars," her multimedia project reflecting the traumatic memories of sexual abuse survivors, received the 2019 Inter Art Center New Documentaries Prize at the 2020 KYOTOGRAPHIE International Photography Festival. In May 2021, her work "Good Morning, My Wife in Heaven" received Third Prize (Short) in World Press Photo's Digital Storytelling Contest.
Lü Yufan was born in Tianjin and graduated from the Photography and Urban Culture Master of Arts program at Goldsmiths College, London in 2017. She currently lives in Beijing and Tianjin. Her work focuses on body and identity, as well as the everyday production and application of images. Her photography has been exhibited at Biennale für aktuelle Fotografie, PhEST and the Singapore International Photo Festival. She was awarded the PHMuseum New Generation Prize in 2020, as well as a Firecracker Photography Grant. Find her @lufaway.
Yining He is a curator, writer and researcher of visual arts based in the UK and China. Her curatorial practices focus on uncovering contemporary visual arts practices and weaving them into a dual vision of politics and visual culture. She has curated more than 40 exhibitions for museums, art institutions and photography festivals across Europe and Asia, including the 8th Singapore Photography Festival: Future Known as Unpredicted (Singapore, 2022), BredaPhoto 2020: China Imagined (Breda, the NL) and the 3rd Beijing Photo Biennale: Troubled Intention Ahead (Beijing, 2018). Yining has been published widely in Chinese and English, including journals, book chapters and exhibition publications. She is the editor of Floating Island: Journal of Photography and Visual Culture and served as a peer reviewer for OVER Journal.