A Fictional Narrative Turn 虚构叙事的转向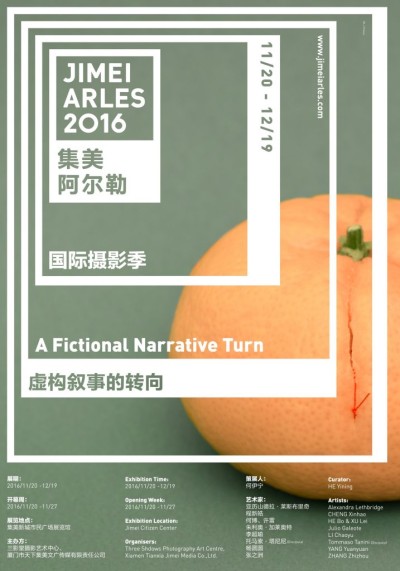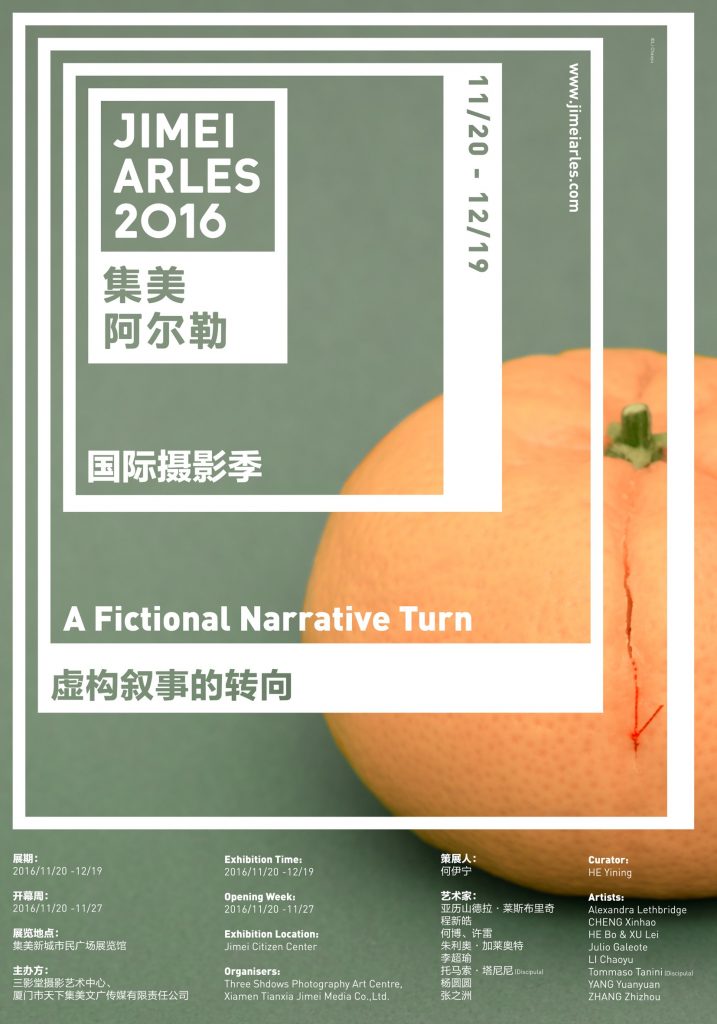 A Fictional Narrative Turn
Curator:HE Yining 虚构叙事的转向
策展人:何伊宁
Artists and Works  参展艺术家及作品名
—— Alexandra Lethbridge | The Meteorite Hunter
        亚历山德拉·莱斯布里奇 |《陨石猎人》
—— Cheng Xinhao | Time from Different Sources: Images from Ciman Village    
        程新皓|《来源不同的时间》
——  Discipula | Tommaso Tanini |H. said he loved us                                                
         Discipula | 托马索·塔尼尼|《H.说他爱我们》
—— He Bo & Xu Lei | Selfiers: Sealed with Images                                                         
        何博、许雷 |《自拍者:尺笺传影》 
—— Julio Galeote |Tropical Ornament
        朱利奥·加莱奥特 |《热带装饰》
—— Li Chaoyu | After One Hundred Years                                                                         
        李超瑜|《百年之后》
—— Yang Yuanyuan| At the Place of Crossed Sight (Part one)                                     
        杨圆圆|《在视线交错之处》(上篇)
—— Zhang Zhizhou | Photographers——After Masahisa Fukase                                
        张之洲|《摄影师S — 在深濑昌久之后》

Curatorial Statement 策展综述
There is a baffling power that photography has: it's a source of reliable evidence, a means to document atrocity; it's a proof of data, and one of the most effective ways to recreate historical events. However, with the advent of photography as an artform, photographers and artists alike have begun to use photographs to construct fictional narratives. These narratives test the boundaries between the real and the imagined, snaring viewers in suspended belief and convincing them that what they are presented with is a reality. Across the spectrum of contemporary photography, from Joan Fontcuberta to Zoe Leonard to Walid Raad, many influential photographers have used the image as a means to create a fictional archive. In doing so, they have broadened the band through which a photo's narrative can be told and challenged the authority that photography has to define what is truly history.
'A Fictional Narrative Turn' focuses on the varying creative practices of 8 photographers. Through both a historical and cultural lens, the show considers the possibilities created when a photograph's relationship with reality is challenged; moreover, it seeks to understand what function photographs serve when constructing a fictional narrative. Throughout the exhibition this develops in different ways.
The works of British photographer Alexandra Lethbridge serve as a mythical metaphor for everyday life in 'The Meteorite Hunter'; Cheng Xinhao's 'Time from Different Sources' is a body of work that deconstructs and then regroups the buildings, objects, images and people from Saman village of the different historical origins. He Bo and Xu Lei explore the symbolic development of the selfie in the 1980's in 'Selfiers: Sealed with Images'; Julio Galeote's 'Tropical Ornament', which investigates the relationship between reality and fiction and its representation, consists a first stage of documentation of historical images from Miami's photographic archive and second images that constructed in his study. Li Chaoyu's 'After One Hundred Years' revisits the greatest inventions and discoveries of the 20th Century; and Italian photographer Tommaso Tanini reflects on totalitarianism in East Germany in 'H. said he loved us.' In another vein, Yang Yuanyuan discusses the history of photography and its development as a medium in 'At the Place of Crossed Sight (Part one),' looking at how the relationships between photographers, photos, cities, and memories have become inexorably tangled together. Lastly, Zhang Zhizhou uses his works in 'Photographer S——After Masahisa Fukase' to focus his gaze on the inner workings of photography itself, using an imagined 'photographer S,' to recreate the intertwined nature of the photographer and the history of photography.
These eight works stem from different historical events and the different views of each photographer on how contemporary culture seeps into every day life. It is through this series of imagined characters, events, and objects that these archives, photographs, creations, and installations are able to truly interact.
摄影具有一种迷惑性的权威,被看做是一种提供可靠证据的手段,在纪录暴行、调查取证、还原历史过程中起到了重要的作用。然而,从摄影术诞生开始,便有摄影师和艺术家虚构照片的叙事来测试现实和虚构之间的界限,把观众的注意力引向摄影作为现实的一种错觉的圈套。在当代摄影的光谱中,从胡安·冯库贝尔塔(Joan Fontcuberta)到佐伊·莱昂纳德(Zoe Leonard),再到瓦利德·拉德(Walid Raad),这几位来自不同地域, 且颇具影响力的摄影师利用照片为手段建立虚构的档案,在拓宽了摄影的叙事空间的同时,挑战着摄影在建构历史终的真实权威。
"虚构叙事的转向"通过考察八位青年摄影师/团体在摄影近期创作中运用虚构叙事的所探讨的丰富主题,来思考照片被并置在真实和虚构的文化及历史维度当中的可能性,并探讨了摄影在虚构叙事空间中的功能。
展览作品包括英国摄影师亚历山德拉·莱斯布里奇(Alexandra Lethbridge)隐喻平凡生活之神奇的《陨石猎人》(The Meteorite Hunter);程新皓将茨满村在不同历史中起源的建筑,物件,图像,包括身处其中的人们被拆解和重组,形成叙事虚构的《来源不同的时间》;何博、许雷两人对"自拍"主题在20世纪80年代表征进行探索的《自拍者:尺笺传影》;西班牙摄影师朱利奥·加莱奥特(Julio Galeote)的《热带装饰》(Tropical Ornament ),该作品融合了他所收集的迈阿密历史图像文件,以及在后期研究中所构建的图像,尝试讨论现实、虚构及其再现之间的关系;李超瑜意在探索和回顾那些发生在20世纪中的重大发现和发明的《百年之后》;意大利摄影师托马索·塔尼尼(Tommaso Tanini)反思东德极权主义的《H.说他爱我们》(H. said he loved us);杨圆圆讨论摄影史的进程中,摄影师、照片、城市、记忆、迁徙等多个元素之间错综复杂的关系的《在视线交错之处(上篇)》; 以及张之洲的《摄影师S — 在深濑昌久之后》,他在作品中将视线投向摄影的内部,通过虚构摄影师S, 再现了拍摄者与摄影史之间的纠结。
这八件作品分别从不同历史事件、以及摄影师个人在当代文化生活中所遇到的日常问题切入,通过一组组由虚拟人物、事件或物件所构成叙事的作品,实现了档案、照片、现成品和装置等不同文本之间的互动。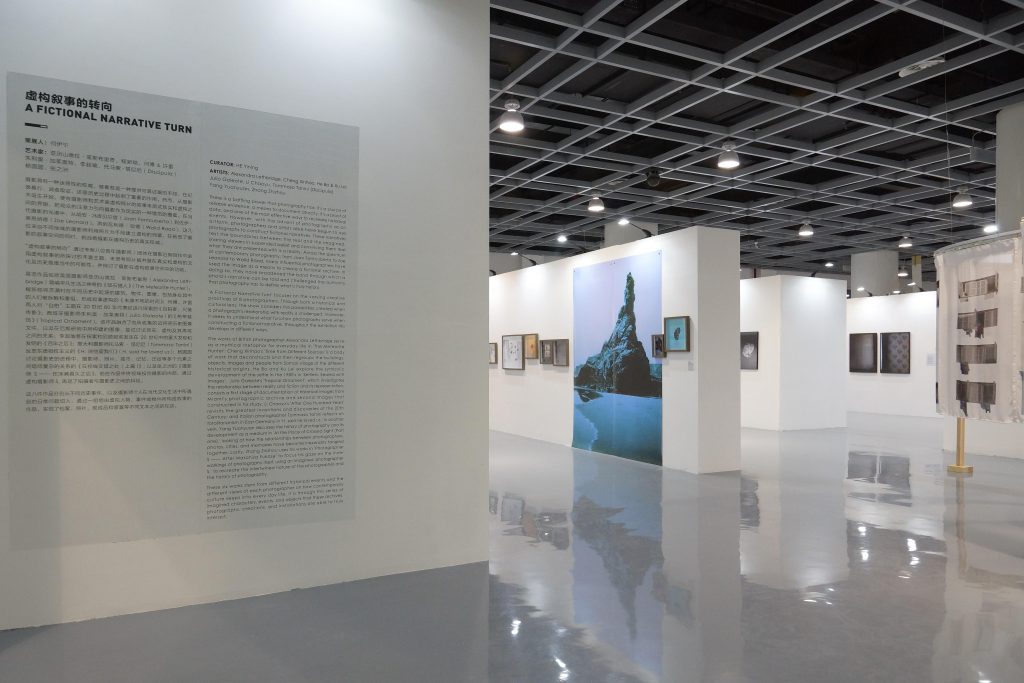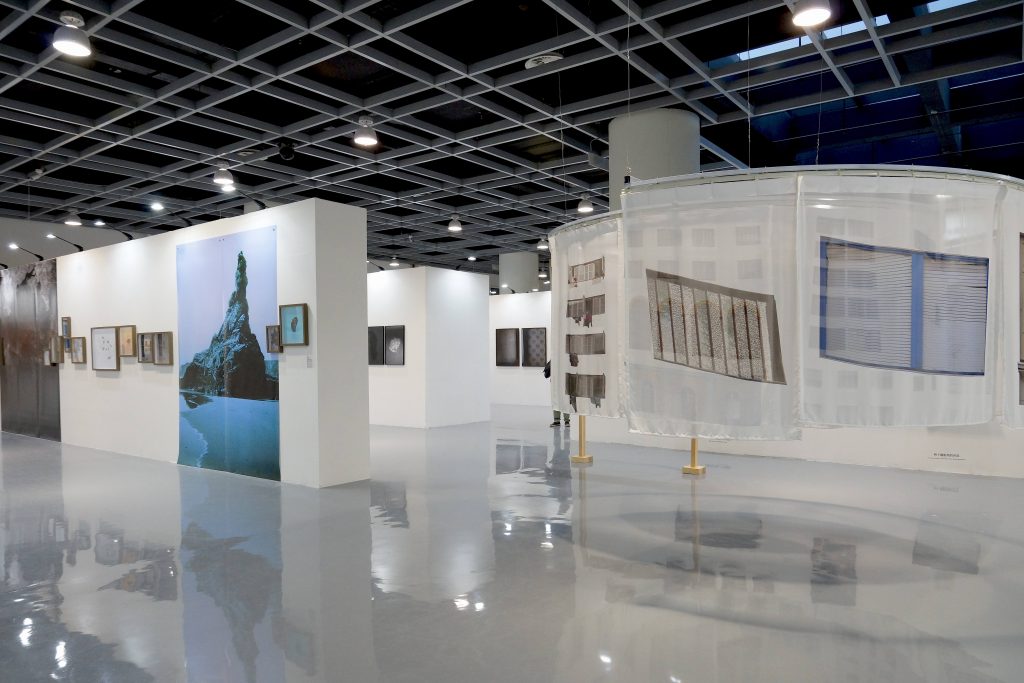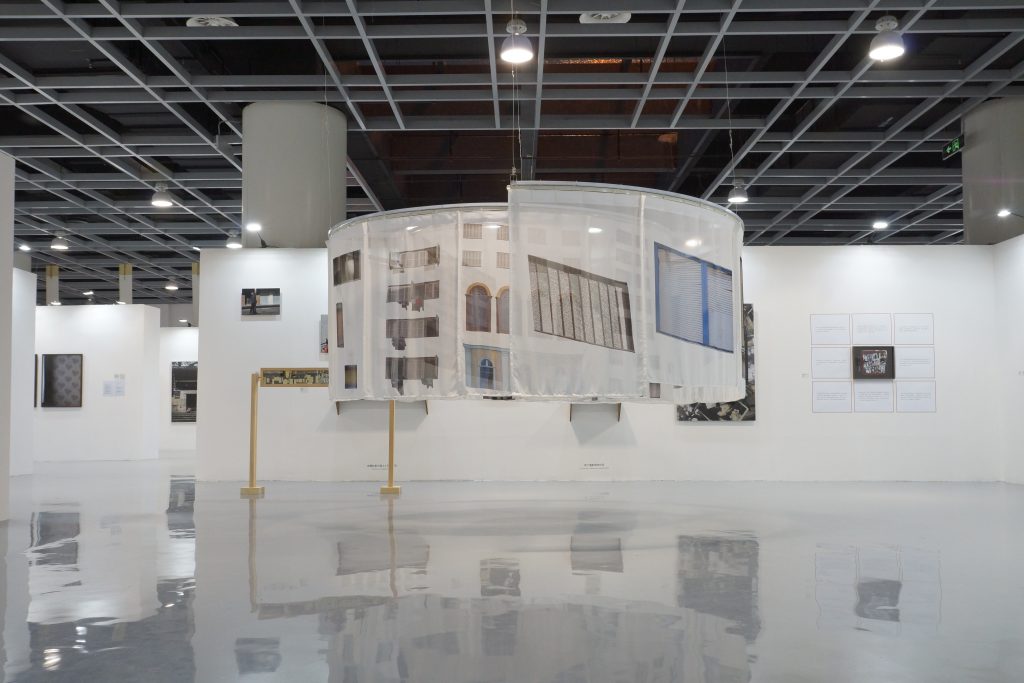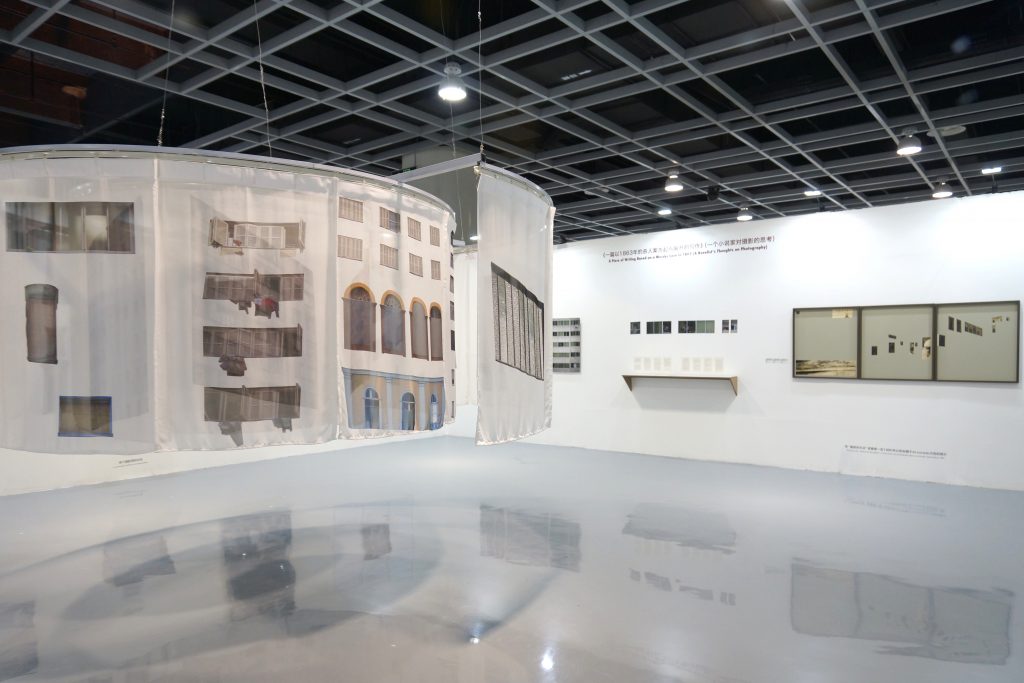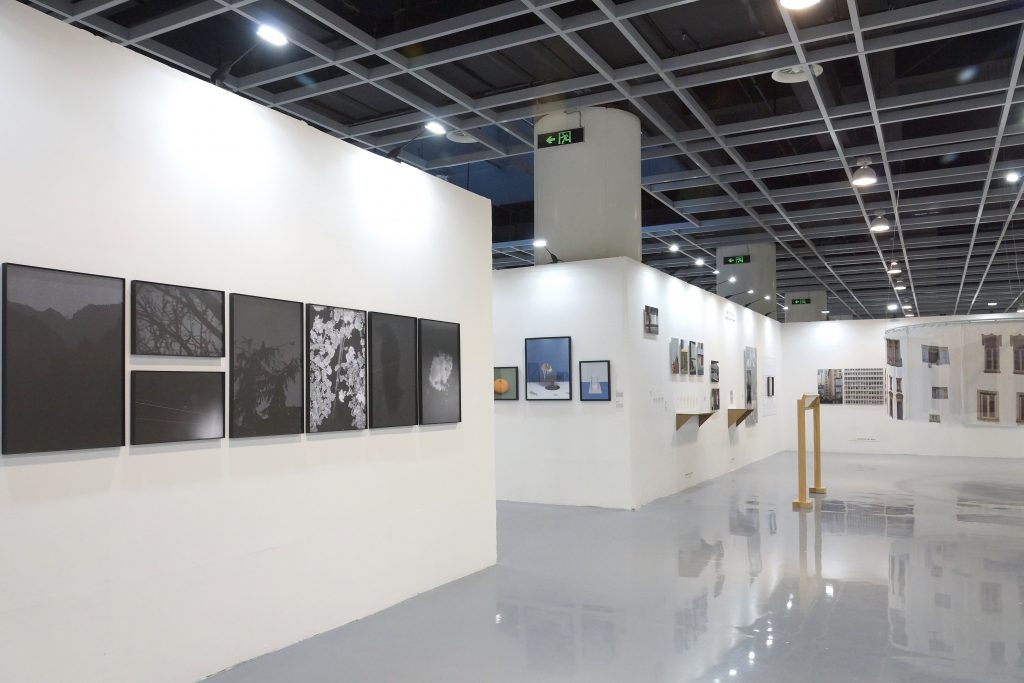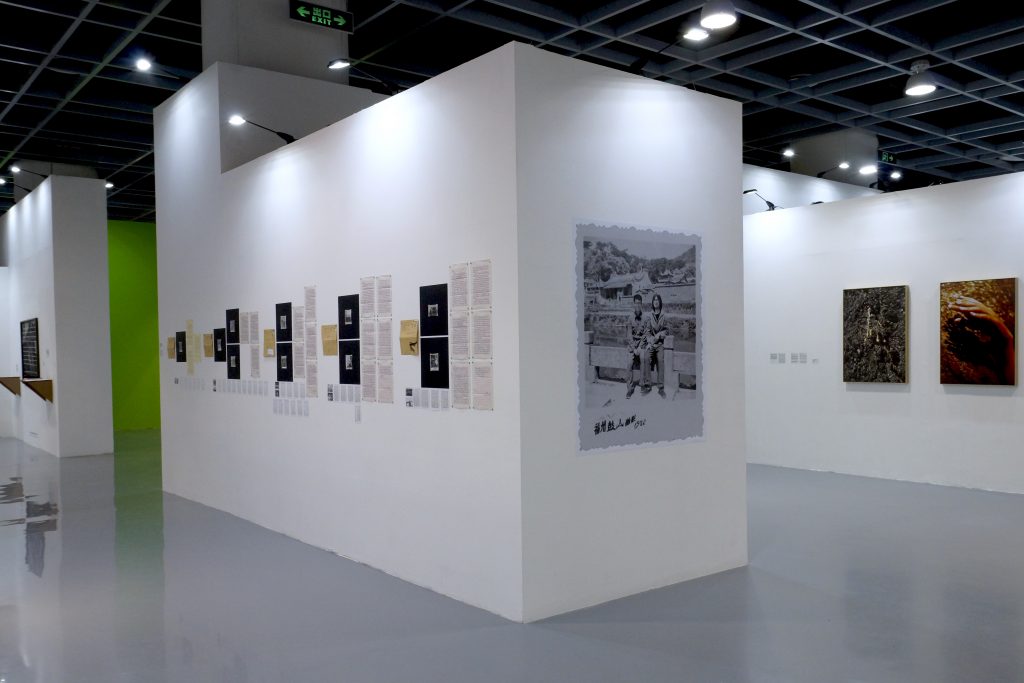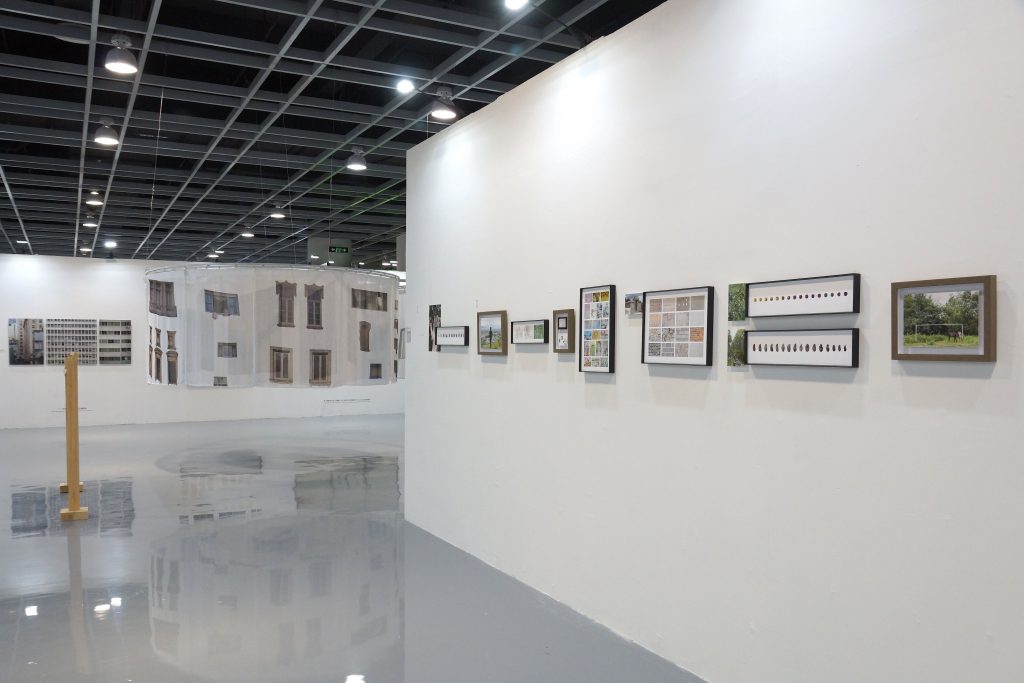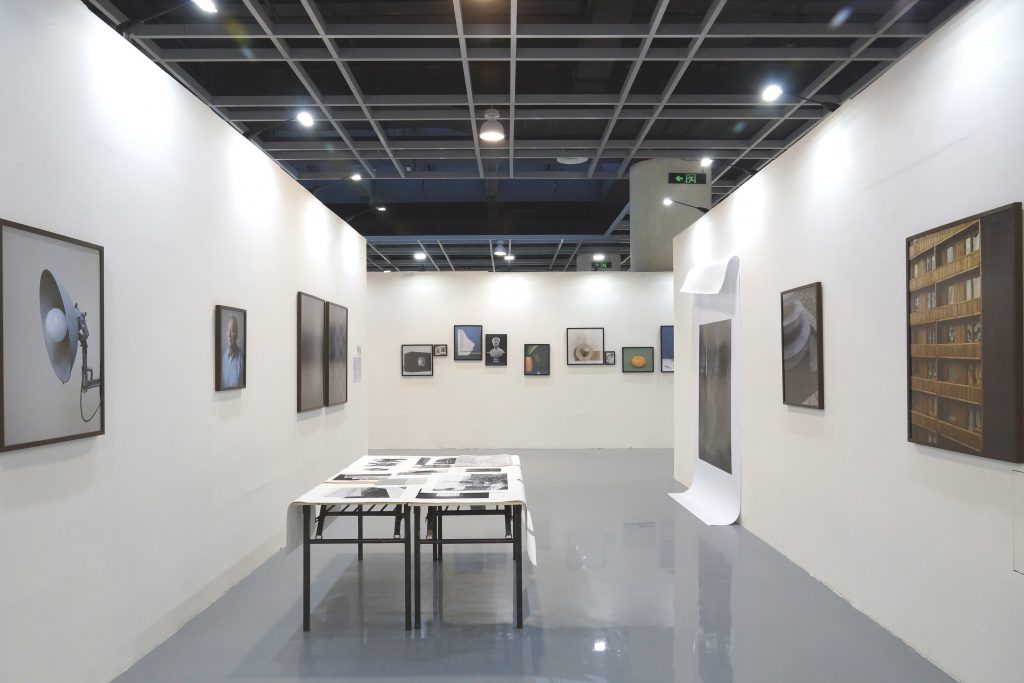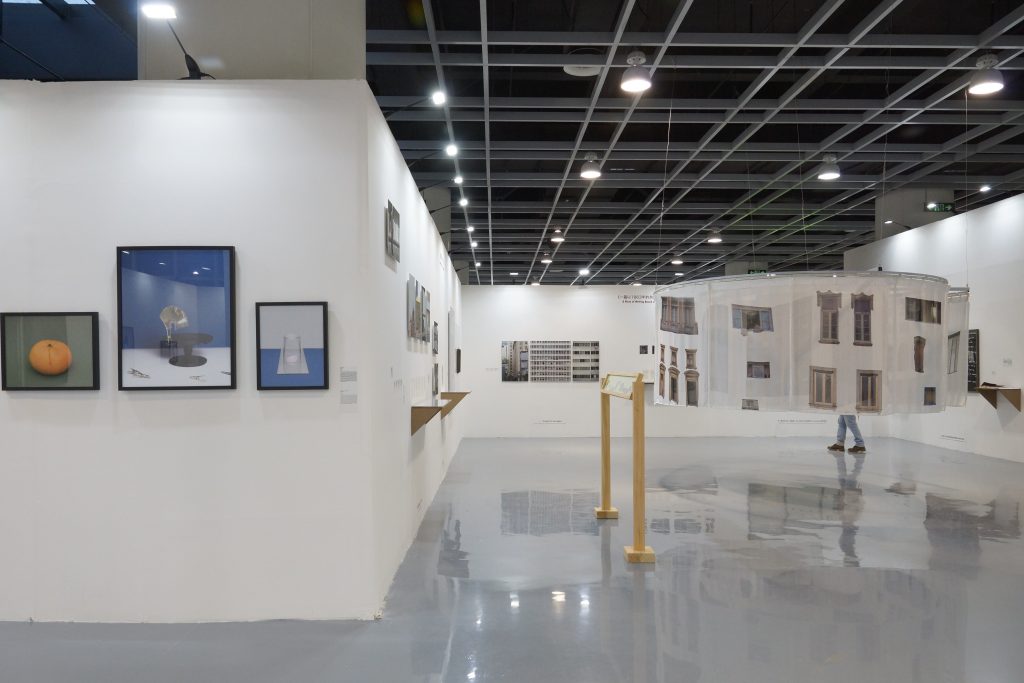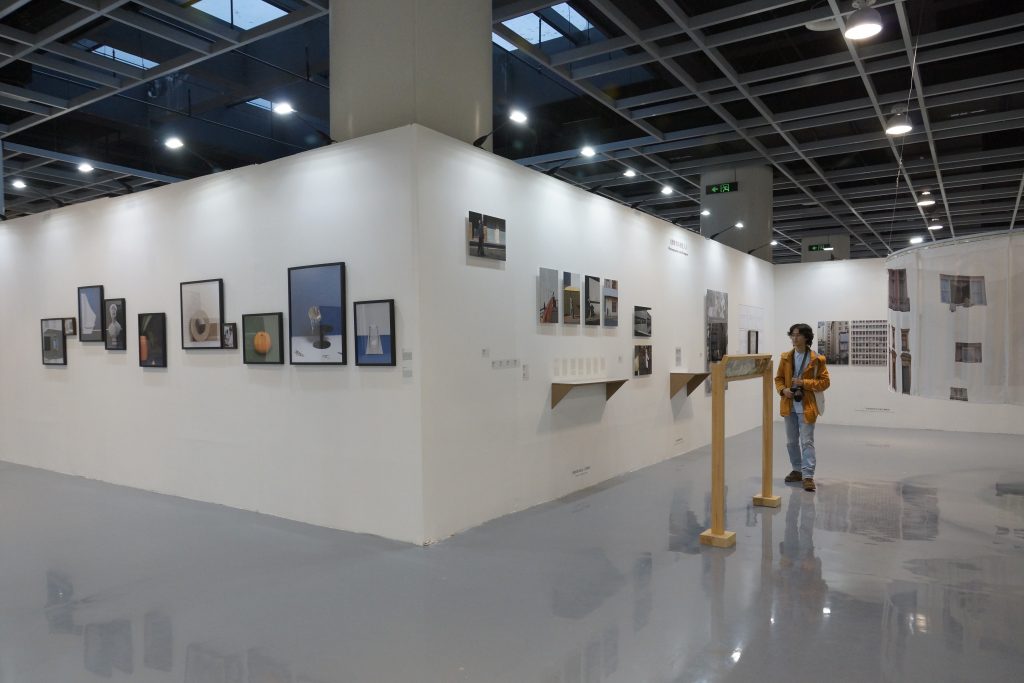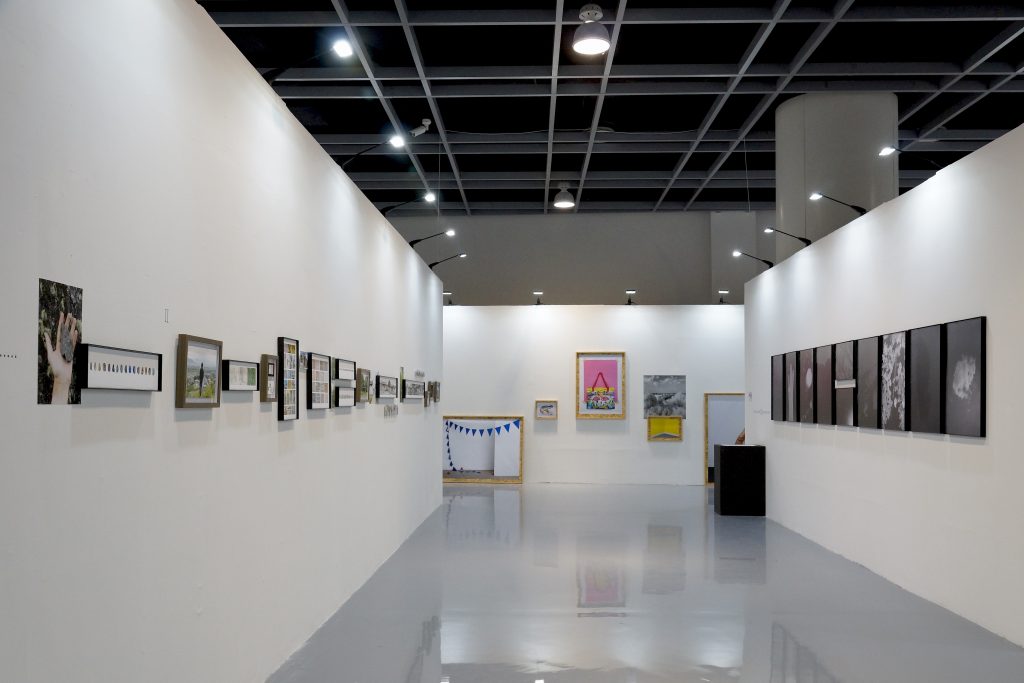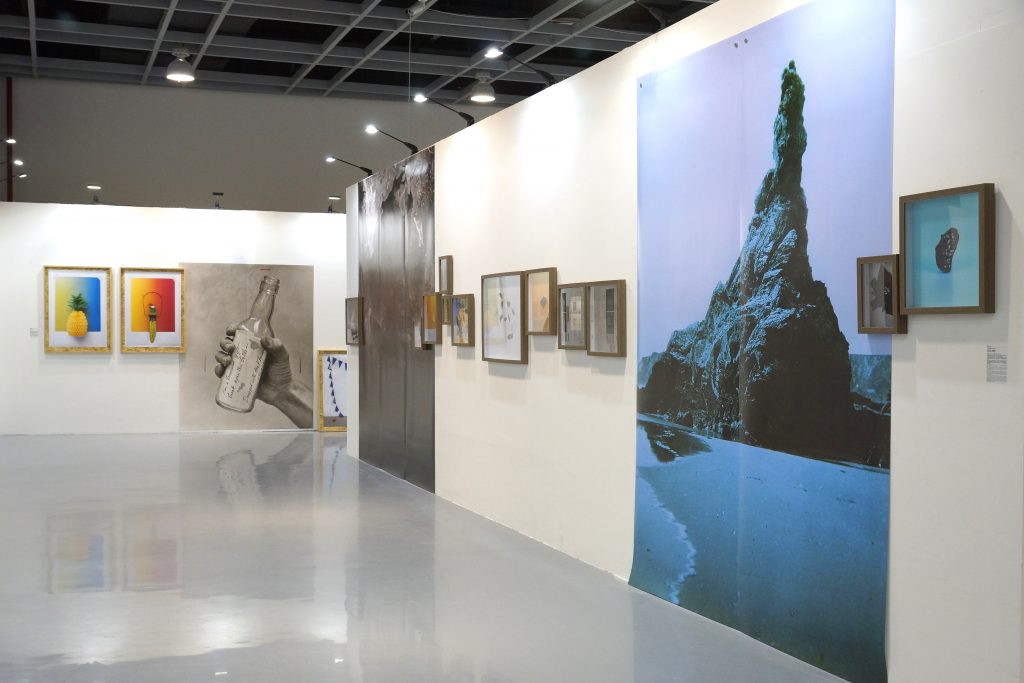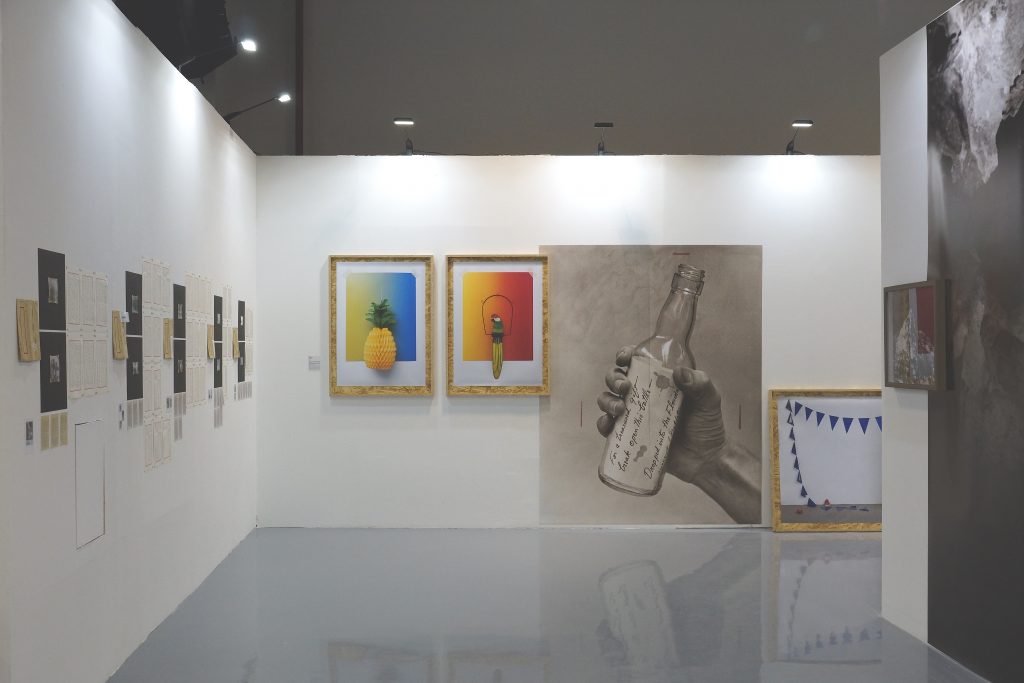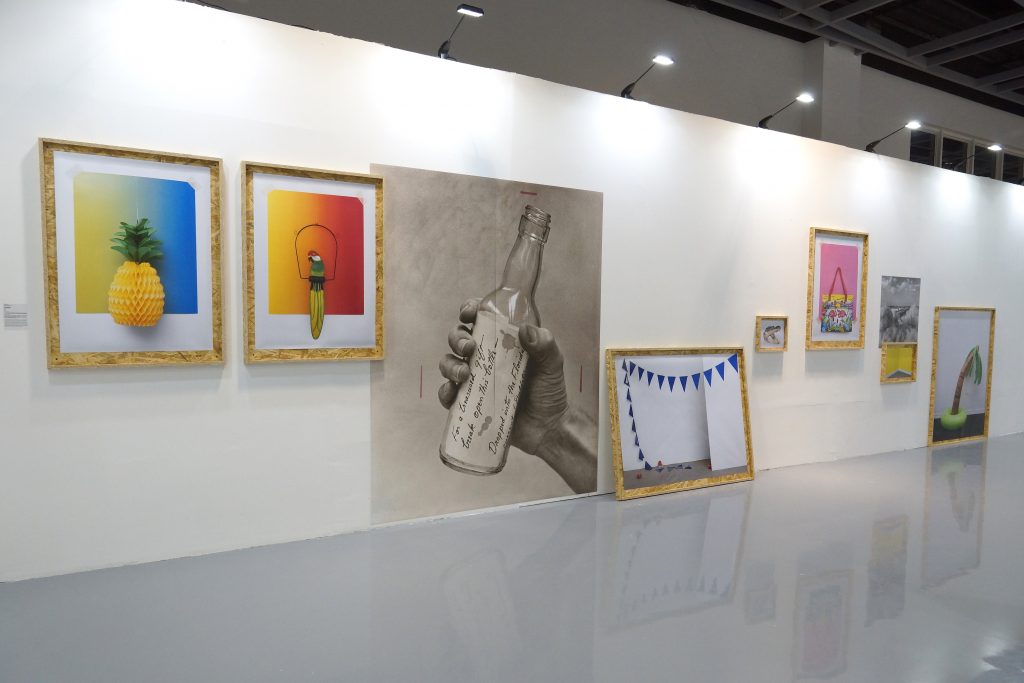 2016 Jimei × Arles International Photo Festival
2016 集美 · 阿尔勒国际摄影季
The Jimei × Arles International Photo Festival was jointly created in 2015 by RongRong, founding director of the Three Shadows Photography Art Centre, and Sam Stourdzé, director of Les Rencontres d'Arles.
In 2016, the festival, co-directed again by its founders, will raise the curtain on the 20th of November 2016. Exhibitions aside, artistic performances, sound shows, forums, projections, porfolio reviews and other events will take place during the opening week that last a full 7 days. The festival means to connect and animate separated cultural areas and spaces, to relay and promulgate the different art forms through the city, thus events will be held both at Jimei Citizen Centerand Three Shadows Xiamen Photography Art Centre.
The 2016 Jimei × Arles International Photo Festival has received the generous support of Jimei's CCP Party Committee and government.
Exhibition time
—
2016 / 11 / 20 – 12 / 19
Opening week
—
2016 / 11 / 20 – 11 / 27
Exhibition location
—
Main Exhibition Hall: Jimei Citizen Center, Three Shadows Xiamen Photography Art Centre Connected spaces: more than 10 spaces in city. Jimei × Arles International Photo Festival founders and directors: RongRong, Sam Stourdzé
"JIMEI × ARLES INTERNATIONAL PHOTO FESTIVAL" founder and director:
—
RongRong, Sam Stourdzé
Board of Consultants (in alphabetical order)
—
Gu Zheng, Huang Rui, Shigeo Goto, inri, Jin Hongwei, Li Zhenhua, Karen Smith, Wang Huangsheng
Curators(not ordered)
—
Marc Atallah & Frédéric Jaccaud, Maurizio Cattelan & Pierpaolo Ferrari, EstelleRouquette & Sam Stourdzé, Yann Gross, Aida Muhuneh, Stefano Stoll, Hai Jie, Cai Meng, Peng Yanhan, Zhang Hanlu, Shen Chen, Qin Wei, Li Weiyi, Shigeo Goto, Yan Changjiang, Gao Chu & Liu Tian, Zeng Huang, Jin Hongwei, Chen Wei, Yan You,He Yining, Jin Youming, Wang Huan, Zhu Jinjing..
"集美 · 阿尔勒国际摄影季"始于 2015 年,由三影堂摄影艺术中心创始人荣荣先生以及法国阿尔勒国际摄影节主席萨姆 · 斯道兹(Sam Stourdzé)先生共同发起,并担任联合总监。
"2016 集美 · 阿尔勒国际摄影季"将于 11 月 20 日开幕,在为期一个月的展期之中,呈现共计30多个展览单元,涵盖逾千件艺术作品,主题覆盖了当代艺术中摄影的方方面面。其中的"年度阿尔勒"板块,从今年夏天在法国展出的"阿尔勒国际摄影节"(The Rencontres D'Arles)中精选8个展览单元,直接参与到"集美 · 阿尔勒国际摄影季"的展览之中,包括700余件作品。此外,"摄影季"的主要展览板块还包括 "集美 · 阿尔勒"发现奖、亚洲影汇、蜷川実花(Ninagawa Mika)个展、影史回眸、在地行动、藏家故事、无界影像。并在开幕后的一周时间里,带来数场专题论坛、专家见面会、研讨会和影像放映会等活动,主题涵盖"摄影节的国际合作和在地联结"、"影像收藏"、"中国摄影史"、"女性"等丰富议题。展览及相关活动将同时发生在厦门市集美新城市民广场展览馆及三影堂厦门摄影艺术中心,并联动多个镶嵌于城市内部的艺文空间,打造全城联动的"摄影季"活动,以多样的艺术形态渗透在厦门的岛屿之间。
本次"摄影季"得到厦门市集美区委、区政府的大力支持,由三影堂摄影艺术中心与厦门市天下集美文广传媒有限责任公司联合主办,摄影季展览将持续到12月19日。
展期
—
2016年11月20日-12月19日
开幕周
—
2016年11月20日-11月27日
展览地点
—
集美新城市民广场展览馆、三影堂厦门摄影艺术中心、联动机构与空间
"集美 · 阿尔勒国际摄影季"发起人及总监
—
荣荣、萨姆·斯道兹
专家顾问团
—
顾铮、黄锐、後藤繁雄、映里、靳宏伟、李振华、凯伦·史密斯、 王璜生
策展团队
—
马克·阿塔拉和弗雷德里克·贾科、莫瑞吉奥·卡特兰和皮耶尔保罗·法拉利、埃斯特尔·鲁凯特和萨姆·斯道兹、扬·格罗斯、艾达·穆鲁奈、斯特凡诺·斯托尔、金酉鸣、海杰、蔡萌、彭嫣菡、张涵露、沈宸、秦伟、李威仪、後藤繁雄、颜长江、高初 & 刘畑、曾璜、靳宏伟、陈伟、言由、何伊宁、王欢、朱津京等